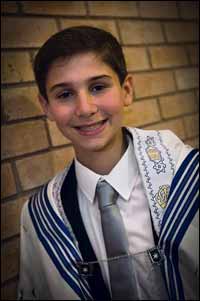 Picture: Howard Barnett
Ross Cameron Baskind was barmitzvah at Etz Chaim Synagogue on Shabbat.
The son of Claire and Stephen Baskind, of Alwoodley, he has a 15-year-old sister, Jessica.
Ross is a pupil at King David High School in Manchester.
The Leeds United fan plays football for Leeds Maccabi and also enjoys playing golf and table tennis.
Grandparents Lena and Malcolm Shedlow and Brenda and Ronnie Baskind were joined at the simcha by guests from Colorado Springs in America.
Ross recently travelled to Wales with Habonim Dror.
---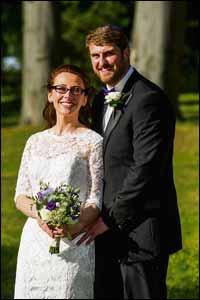 Picture: Dorchester & Ledbetter
TALIA SHIERS and Alex Webster married at the Etz Chaim Synagogue, where they celebrated with family and friends from as far afield as Israel, Canada and Spain.
Rabbi Anthony Gilbert and Rabbi Shalom Kupperman officiated, together with Rev Gerry Harris.
Talia is the daughter of Shelley and Graham Shiers, while Alex is the son of Denise and Alan Webster.
Talia's sister Stephanie was chief bridesmaid and Alex's nephews David and Eddie Bentley were page boys. The couple have settled in Leeds.
---
BURY Football Club fan Gal Bitton proved to be on the ball - when he celebrated his barmitzvah at the Western Wall (left).
Gal supports the League Two side as his mother Elise, who emigrated to Israel 14 years ago, is from Sunnybank.
The son of Elise and Tomer Bitton, of Nahariya, Gal also enjoys athletics and playing on his Xbox.
Joining in the celebrations were grandparents Brenda Lewis, of Sunnybank, and Rechama and Meir Bitton, of Safed, and great-grandfather Albert Sacks, of Bury. Also there was uncle Hadley Lewis, of Radcliffe, and great-aunt Lynda Rostron, of Sunnybank.