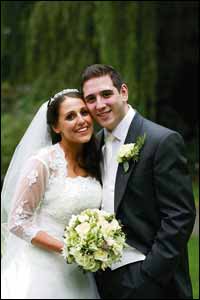 Picture: Warren Shaffer
SAMANTHA PATCHICK and Oliver Martin were introduced by mutual friends when they studied at Nottingham University.
And, a few years later, the couple were married at Prestwich Hebrew Congregation by Sha'are Hayim Congregation's Rabbi Shlomo Ellituv.
Samantha, a resource assistant for a law firm, is the daughter of Jackie and Jonathan Patchick, of Whitefield, while chartered accountant Oliver is the son of Nicki and Howard Martin, of London.
Best men were the groom's brother Will and friend Sam Isaacs. Maid of honour was Dalia Fleming with bridesmaids Paisley Lewis and Deborah Lee.
Joining in the celebrations were the bride's grandmother Sadie Cohen, of Bury, and the groom's grandparents Pippa and Norman Landey, of Leeds, and Gusti and Maurice Martin, of London, as well as guests from Israel, South Africa and Australia.
The couple are currently on honeymoon in Italy and will settle in London.