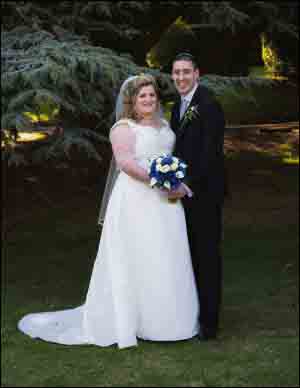 Picture: Howard Barnett
DANI Sissman and Alex Hyman were the perfect match for each other after meeting through a Jewish dating website.
And the couple were surprised to learn that they lived round the corner from each other in Alwoodley - but had never met.
Dani, the daughter of Ruth and Gary Sissman, is an international business secretary, while Alex, the son of Adele and Brian Hyman, works in banking.
The couple were married at The Old Swan Hotel, Harrogate, by Rabbi Jason Kleiman.
Best man was the groom's best friend Adam Gould. Bridesmaids were Noreen Mahmud, Jen Lloyd Wilkinson, Chrissy Wight and the groom's niece Mia Gregory.
Pageboy was the bride's one-year-old nephew Noah Sissman.
The bride's grandparents Iris and Gerry Freeman, of Alwoodley, as well as guests from Canada, joined in the celebrations.
The couple will honeymoon in Singapore and Vietnam and will settle in Alwoodley.
---
Grandparents Share in Bobby's joy
BOBBY Charles Ashley Share was barmitzvah at Beth Hamidrash Synagogue on Shabbat.
The son of Ruth Share and Richard Share, of Alwoodley, Bobby is a pupil at The Grammar School at Leeds.
Grandparents Marcia and Con Gordon and Barbara Share were present at the simcha.
Guests travelled from Israel to join in the special occasion.
Bobby, who plays football for Leeds Maccabi and enjoys playing golf, has a 16-year-old sister Immy.