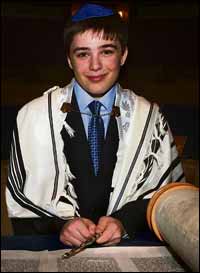 PICTURE: DAVID COLE
CAMERON MYERS is the first barmitzvah boy from the Leeds Jewish Free School.
Cameron celebrated his simcha at the Beth Hamidrash Hagadol Synagogue on Shabbat.
The son of Caroline and David Myers, of Alwoodley, Cameron enjoys reading and computers.
He has a 16-year-old brother Stefan, who attends Rossett High School in Harrogate.
Cameron's grandparents, Jacqueline and Howard Myers and Brian Felston, joined in the celebrations.
---
LYNSEY Conway and Marc Balaban married at the Midland Hotel, Manchester, having first met when they were pupils at King David.
Lynsey, the daughter of Debe and Tony Conway, of Whitefield, works in fashion, while personal trainer Marc is the son of Lorraine and Tony Balaban, of Whitefield.
They were married by Whitefield Synagogue's Rabbi Jonathan Guttentag. Best men were the groom's brother Zack Balaban and Todd Keers.
Bridesmaids were the bride's sister Rachel Radnor, Jackie Kanzen, Danielle Saava and Nicki Cohen. Flower girl was groom's niece Lucy Balaban.
Pageboys were the bride's nephew Rafi Radnor and the groom's nephew Jake Balaban.
Ushers were the bride's brother Paul Conway and the groom's brother Adam Balaban.
The couple are currently backpacking and working in Australia.