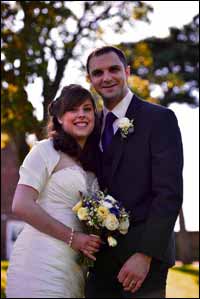 Picture: Flix 'n' Pix
IT was due to Fiona Grant's friendship with Arron Mendell that she fell in love with his brother Brett.
The pair met at Birmingham Hillel House while they were students in the city. And, a few years later, Fiona and Brett were married at Liverpool's Princes Road Synagogue by Bury Hebrew Congregation's Rabbi Binyomin Singer.
Brett, the son of Debbie Mendell, of Sunnybank, and the late Ray Mendell, is an operations director, while pharmacist Fiona is the daughter of Diane and Laurence Grant, of Allerton, Liverpool.
Best men were Arron Mendell and Adam Rose. Bridesmaids were the groom's niece Ruby Levey along with Joanne Blake, Gemma Salkin and Hatal Shah.
The groom's grandmother Rica Phillips and the bride's grandmother Bette Grant joined in the celebrations, as did guests from Israel, Germany and Canada.
After a honeymoon on a Mediterranean cruise, the couple have settled in Radcliffe.