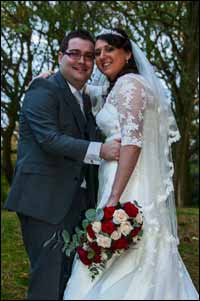 Picture: Ludwig Studios
ADAM CAILLER and Elissa Small married at Holy Law Hebrew Congregation - exactly five-and-a-half-years after they met.
The couple first met in Adam's native Liverpool when Mancunian Elissa was visiting her best friend.
They were married by Rabbi Yossi Chazan, Rabbi Mordechai Wollenberg and Rabbi Dan Lieberman.
Adam, the son of Judy and Gary Cailler, of Sunnybank, Bury, is project manager for Halpern's supermarket, while garment technologist Elissa is the daughter of Denise and Warren Small, of Prestwich.
Bridesmaids were Danielle Benson and Alina Cohen. Ushers were Oliver Durham and the bride's brother Michael Small.
Joining in the celebrations were the groom's grandparents, Lila and Cecil Goldstone, of Unsworth, and the bride's grandmothers, Lilian Frieslander, of Whitefield, and Joyce Small, of Prestwich.
After a honeymoon in New York City, the couple have settled in Whitefield.
---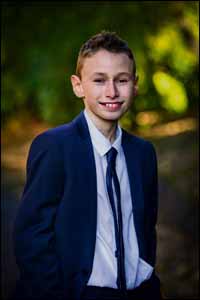 Picture: Robert Clayton
SPORTY Nathan Goodman celebrated his barmitzvah at Prestwich Hebrew Congregation.
The King David High School pupil is the son of Louise and Antony Goodman. He enjoys playing squash, golf, cricket and football.
Joining in the celebrations were Nathan's older sister Ella, grandmother Brenda Freedland and grandparents Doreen and Barry Goodman, as well as guests from Jerusalem and around the UK.
---
TALENTED sportsman Josh Stevens celebrated his barmitzvah at Barnet Synagogue - and was then called up at Beth Hamidrash Hagadol Synagogue in his father's native Leeds.
Harrogate-born Josh moved with his family to Sydney when he was 15 months old, but returned to live in London last year.
He currently lives in Bushey Heath and attends JFS.
The son of Sara Stevens and Richard Stevens, Josh won a newspaper's Young Sportsman of the Year award, primarily due to his selection in the Middlesex County Cricket Club U-13 team.
He plays rugby union as an accomplished second row forward and is vice-captain of Saracens U-13 team.
While at Moriah College in Sydney, he won the Jewish studies prize for his year in 2011.
Josh, a fan of Tottenham Hotspur along with Leeds Rhinos and Sydney Roosters rugby league teams, has a 10-year-old brother Oscar and an eight-year-old sister Mia.
Proud grandparents are Joan and Mike Stevens, of Leeds, and Carole and Harold Shapiro, of London.