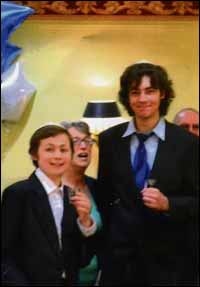 DOUBLE JOY: Twins Jonah and Isaac Miam celebrate their joint simcha in Philadelphia
A DOUBLE celebration was in order for Zionist Federation co-president Professor Eric Moonman when he celebrated his twin grandsons' barmitzvahs.
He joined in the simcha of his twin grandsons Isaac and Jonah Miam, which took place in Philadelphia.
Liverpool-born Prof Moonman said: "My grandsons live in Austin, Texas, with my daughter and son-in-law, Natasha and Mike.
"The barmitzvah was in Philadelphia, but as we have family all over the world they decided to have it there so more people could attend.
"Philadelphia is a regular home for me as I visit often to stay with my sister, Sylvia Greenbaum, who moved there in 1946 as a GI bride."
Guests joined in the celebrations from Israel, Paris and England.
Natasha and Mike, who met at Liverpool University, moved to America in 2000.
He said: "They were both active in the student movement when at Liverpool.
"My daughter Natasha fought many battles in Liverpool and organised campaigns."
Prof Moonman added: "In Texas, it is difficult to get tuition for barmitzvah classes, but they found one rabbi in Connecticut named Phillip Shechter, who gives lessons across America.
"When Natasha was in England, she had a job with the BBC and started as a presenter based in the Bristol studios, but she decided she wanted to move to America.
"She found it hard to break into the American media so decided to go into market research."
Twins Isaac and Jonah continued their mother's creative side and persistence as Isaac has a strong interest in computing and making things while Jonah is keen on developing his studies.