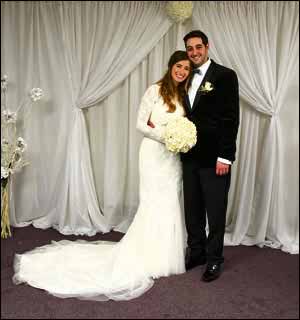 PICTURE: Anthony Gould-Davies
STUART Bernstein and Rachel Rainsbury couldn't go wrong with their choice of caterers for their wedding. For Stuart owns a kosher catering company.
Stuart, son of Avril and Sam Bernstein, of Prestwich, first saw clothes merchandiser Rachel four years ago at Birmingham University, but it took him a year to pluck up the courage to ask her out.
Rachel, daughter of Pamela and Julien Rainsbury, of London, and Stuart were married at Wanstead and Woodford Synagogue by Rabbi Beni Fleischer.
Best man was Benji Harris, of Whitefield, and usher was Josh Cooper, of Prestwich. Bridesmaid was Rachel's sister Esther Rainsbury and flower girl was Stuart's niece Lauren Bernstein. Page boy was Stuart's nephew Zack Bernstein.
Rachel's grandmother Miriam Shultz joined in the simcha as she celebrated her 89th birthday the same day.
Guests attended from America and Israel. The couple have settled in Elstree, Hertfordshire.
---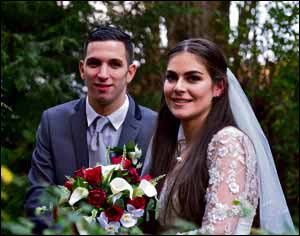 PICTURE: HOWARD GORDON
AYALA FuldA and Jason Deach found Purim to be a joyous festival as they met at a friend's Purim party.
Ayala, daughter of Miri and Avi Weisz, and Simcha and Suri Fulda, is a nursery nurse at Bury and Whitefield Jewish Nursery, while Jason, son of Howard and Debbie Davies and Carl and Jayne Deach, is a serving soldier.
The couple were married at Prestwich Hebrew Congregation. Best man was Adam Greene. Bridesmaids were Ayala's sisters Gabriella Rose-Weisz and Evie Weisz and Jason's nieces Mia Rosenblatt and Lily Deach.
Pageboys were Jason's nephews Sam, Jake and Rafi Cohen, Kyle and Jake Deach and Ayala's brother Sammy Weisz.
The bride's grandparents Peter and Janet Hanson and Miriam Fulda and Jason's grandparents Myra Davies, Marlene Weiner and Myra and Ronny Deach joined in the fun. Family from Israel and America also attended.
The couple, who will honeymoon in Phuket in March, will settle in Prestwich.
---
DJ Joe Moss had a raving time as he celebrated his barmitzvah at the United Hebrew Congregation on Shabbat.
The Allerton High School pupil is the son of Louise and Nick Moss.
As well as being a DJ, Joe's hobbies include drama, computers and playing on his Xbox.
Joining in the celebrations were Joe's younger sister Sylvia, grandparents Caroline and Ralph Lennard and Gina and Paul Mess, as well as guests from Los Angeles and London.
---
CELEBRITY journalist Francine Cohen and optometrist Raymond White married at the Etz Chaim Synagogue.
Guests included stars from Emmerdale and other television shows as well as colleagues from Hello! magazine.
Writing was always in the pipeline for Francine, who loved putting pen to paper. With a few published short stories under her belt, it wasn't until her 30s that she realised journalism was her dream.
The turning point came in the late 80s when she went to a concert at Castle Howard and sent a review to a Yorkshire magazine - and they printed it.
"They asked for more reviews and one day the editor called me in and said she was launching a monthly arts page and would that appeal to me as an 'arts journalist'?" she said.
"That was a huge crossroad for me. Did I tell her I'm not actually an 'arts journalist' or did I say 'oh, how interesting, what's the format, when do I start'?
The editor wanted to get television people involved in the magazine as Yorkshire Television soap Emmerdale was filmed on the magazine office's doorstep.
"So we started promoting happenings in the soap. One of the characters was getting married so we did a mock-up wedding shoot for the front cover."
This opened up a whole new world as Francine hungrily obtained more stories for women's magazines and widened her net to include interviews from Coronation Street.
Her love affair with Hello! started 17 years ago. An actress friend was getting married and rather fancied the magazine featuring her wedding, so, Francine explained, "I contacted Hello! They were interested. I was given the assignment and my showbiz writing career was launched".
Raymond was named top optician of the year in a recent Yorkshire Evening Post Best of Health award ceremony.
His fascination with the Marx Brothers goes back to childhood when he saw the cinema icons on television.
Obtaining a hardback library book on the brothers, he was immediately hooked with the family's history.
As there was a tear on the front cover he was told to keep the book by the librarian.
"That was the first stepping stone that helped form my large collection of memorabilia," he said.