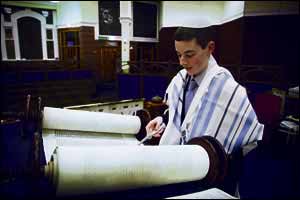 Picture: 123 PHOTOGRAPHY
BUDDING actor Sam Jacob Pearce gave a top performance as he celebrated his barmitzvah at the United Hebrew Congregation on Shabbat.
Sam is the son of Natalie and David Pearce, of Alwoodley.
The Grammar School at Leeds pupil enjoys film-making, drama and computing and currently takes drama courses with the London Academy of Music and Dramatic Art (LAMDA).
Joining in the celebrations were his older sister, Ilana, grandparents Iresine and David Woolf, of Manchester, and Iris and John Pearce, of Hull.
Guests also travelled from America and Israel to join in the celebrations.
---
BIRMINGHAM City fan Zack Abrams was feeling like a champion as he celebrated his barmitzvah at Beth Hamidrash Hagadol Synagogue.
The Leeds Jewish Free School pupil is the son of Alex and Louise Abrams, of Alwoodley, and plays football for Leeds Maccabi under-15s.
As well as being a football fanatic, Zack also loves to play table tennis and his Xbox.
His younger sister, Georgia, joined in the celebrations, along with grandparents Susan and Herbert Abrams, of Birmingham, and Karen and Jeremy Cantor, of Leeds.
Guests also travelled from America, Lanzarote and Denmark to be part of Zack's big day.