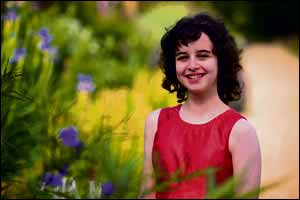 PICTURE: FLIX 'N' PIX
RACHAEL Emma Easton was batmitzvah at Beth Hamidrash Hagadol Synagogue.
The daughter of Andrew and Amanda Easton, of north Leeds, Rachael attends Gateways School.
Her hobbies include creative writing, reading, music, drama and art.
She is also attending a bat chayil course, from which she will graduate next week.
Brother Ben and grandfather Sydney Serritt attended the simcha, along with guests from America and Australia.
---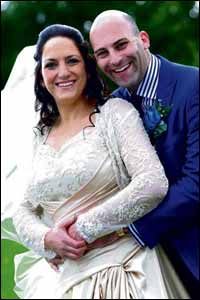 Picture: Steve Bootle
FOR Nicola Smaje and Daren Rosenbloom, love was just an email away. The pair went online in their search for Jewish life partners.
The couple were married at the Beth Hamidrash Hagadol Synagogue by Rabbi Mendel Sufrin with contributions from Rabbi Anthony Gilbert, Chazan Yossi Saunders and close friend Ilan Sherman.
Nicola, an administrator in the Etz Chaim Synagogue office, and 41-year-old Liverpudlian Daren, property manager in Headingley, met through an online dating agency.
Things got into full swing when Daren started to visit Leeds regularly. Their love reached new heights when Daren took Nicola to the restaurant at the top of the Eiffel Tower. Getting down on one knee and, in front of 150 cheering diners, he produced the ring and asked Nicola to marry him.
Nicola's eight-year-old son Jake walked her down the aisle, while her sister Victoria, sister-in-law Stephanie and step-daughter Natalya were bridesmaids. Nephews Leo and Jonah along with Daren's son Zakary were pageboys.
Nicola is the daughter of Susan Smaje and the late David Smaje and step-daughter of Mike Goodman, while Daren is the son of Ronnie Rosenbloom and the late Susan Rosenbloom. Unterfuhrers were Sydney and Eileen Edels.
Nicola's grandparents Joyce and Sydney Frazer attended along with guests from Israel. The couple honeymooned in Marrakech.