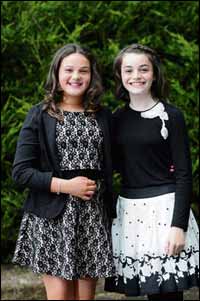 Picture: Steve Bootle
BEST pals like to chill out together, so it was no surprise that Scarlet Freeman and Courtney Frieze-Smith celebrated their batmitzvot and Talmud Torah bat chayil ceremonies jointly last week at the Etz Chaim Synagogue.
The girls have been chums since childhood and both have gone through schooling at Deborah Taylor and Brodetsky Primary School and currently attend Allerton High School.
Scarlet has two sisters, 14-year-old Gemini and Harmony, three, Courtney also has a 14-year-old sister, Brooklyn, and a seven-year old brother, Brent.
Courtney, daughter of Craig and Nicola Frieze-Smith, plays football for Wigton Moor's under-12 girls team while Scarlet, daughter of Penny Freeman, enjoys dancing and performing arts, but most of all both girls like nothing better than chilling out with friends.
Scarlet's grandparents Sandra and Malcolm Freeman and Courtney's grandparents Neil and Lillian Frieze attended the simcha.
---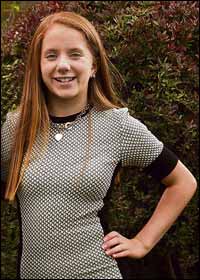 Picture: David Cole
GYMNAST Mimi Stella Goldberg was recently batmitzvah at Etz Chaim Synagogue.
The daughter of Simone Harris and the late Adam Goldberg, Mimi is a pupil at Leeds Jewish Free School.
She is a member of The Zone and also enjoys trampolining.
Mimi has a 22-year-old brother, Max.
Grandparents Gloria and Gerald Harris and Sandra and Irving Goldberg joined guests from around the UK and France at the simcha.