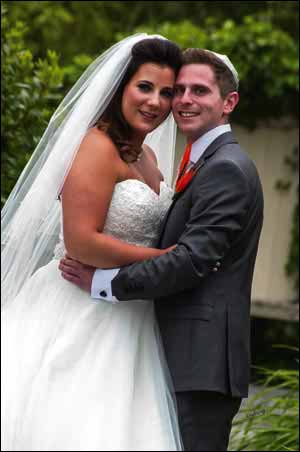 Picture: Ludwig Studios
DOG walker JORDANA Goodman and Simon Stoops first met at Heaton Park Hebrew Congregation 15 years ago, but their friendship didn't turn to romance until 2013.
The couple married recently at Styal Lodge, Cheshire, by Heaton Park Synagogue's Rabbi Daniel Walker.
Jordana, who also pet sits, is the daughter of Amanda and Jeremy Goodman, of Prestwich, while web designer Simon is the son of Corinne and Michael Stoops, of Prestwich.
Best man was Zack Newman. Bridesmaids were the bride's sisters Eden and Fleur Goodman, the groom's sister Natasha Stoops and Angela Beer and Leigh-Anne Cohen. Flower girls were the groom's nieces Aisla Kaye and Kimberly Brace.
Joining in the celebrations were the groom's grandparents Norbert Barrett, of Manchester, and Joan Stoops, of Liverpool, and the bride's grandmother Elaine Lewis, of Prestwich, as well as guests from Israel, Australia and America.
After a mini-moon in Greece, the couple have settled in Whitefield.
---
JONATHAN Davies and Maayan Weitzman first met on Habonim Dror's gap-year programme in Israel.
And, seven years later, the couple were married at the El Cortez Hotel in San Diego, California, by Rabbi Menachem Landa.
Jonathan, who works in sales, is the son of Francine and Andrew Davies, of Sunnybank, while University of San Diego student Maayan is the daughter of Sula Strauss, of San Diego, and Robert Weitzman, also of San Diego.
Best man was the groom's brother Saul Davies, while sister Gabi Davies was bridesmaid.
The groom's grandmother, Joyce Davies, joined in the celebrations, along with guests from the UK, China, Switzerland, Israel and Canada.
His other grandmother, Shirley Glass, was unable to attend.
The couple have settled in San Diego and will honeymoon in Bali next year.