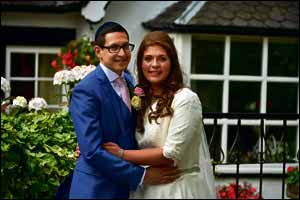 Picture: Howard Gordon Photography
DENI Freedman and Marc Jacob married at Prestwich Hebrew Congregation after meeting when they were students at Nottingham Trent University.
Deni, the youth director of Radlett United Synagogue, in Hertfordshire, is the daughter of Benita and Sean Freedman, of London, while property manager Marc is the son of Yolande and Sydney Jacob, of Prestwich.
Best men were Adam, Daniel and Josh Rose. Maid of honour was Rachel Miller.
The couple, who will honeymoon in the Caribbean later in the year, have settled in Radlett.