YOUNG rabbi Ben Elton is heading Down Under as a married man.
He is taking up a post as senior minister of the Great Synagogue in Sydney after marrying Hinda Young at Keter Torah in Teaneck, New Jersey.
The ceremony was conducted by the aptly-named Rabbi Yaacov Love.
Rabbi Elton,a former Manchester Grammar School pupil, met teacher Hinda while on the Tikvah Fellowship programme for aspiring young Jewish people in New York.
He is the son of Mavis and Peter Elton, of Prestwich.
Hinda, who attended seminary in Connecticut, is the daughter of Ruth and Michael Young, of Connecticut.
Best man was Ben's brother, Daniel Elton, while Hinda's sister, Miriam Young, was bridesmaid.
Sheva Berachot were held in New York, London and Manchester.
Guest attended from the UK, Australia and Israel.
---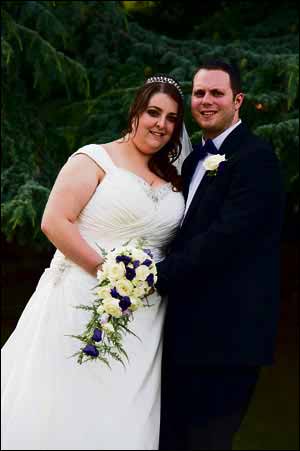 PICTURE: HOWARD BARNETT PHOTOGRAPHY
RICHARD CHARKHAM waited for Valentine's Day to propose to JESSICA CASDAN. And the couple, who met via a Jewish online dating site, were married at the Old Swan Hotel, Harrogate, by Rabbi Mendel Sufrin.
Jessica, a support worker, is the daughter of Mikayla and Richard Casdan, of Leeds, while travel consultant Richard is the son of Lynne and Sam Charkham, of London.
"After about a month of speaking, I went to London, to meet him," Jessica said. "We maintained a long distance relationship while I was at Nottingham Trent University.
"After a year of dating I decided to move to London to be closer to him".
Best men were Ben and Saul Charkham. Bridesmaids were Tanya Casdan, Jenna and Georgia Berks and Victoria Shiers. Page boy was Louis Levi.
Joining in the celebrations were the bride's grandmother, Shirley Casdan, and the groom's grandparents, Bernice and Tony Berkes and Philip Sladen.
After a mini-moon in the Lake District, the couple will honeymoon in South Africa later this year.
---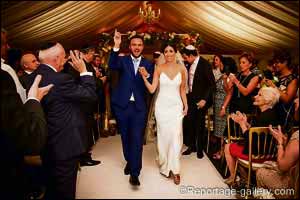 PICTURE: Reportage
MARRIED at Heaton House Farm, Macclesfield, were David Blackston and Dr Meredith Grossman.
The couple were married by Whitefield Hebrew Congregation's Rabbi Jonathan Guttentag and Chazan Yossi Muller.
David is the son of Shelley and Leslie Blackston, of Manchester, while Meredith is the daughter of Susan Zilberman, of New York City, and Glenn Grossman, of Florida.
Best man was the groom's brother, Jonathan Blackston.
Maid of honour was the bride's sister Tali Neuhaus and bridesmaids were Melanie Wadkins, Leila Figleaf and Cassie Krowe.
Joining in the celebrations were the bride's grandmothers, Elaine Gilbert, of New York, and Mino Calvo, of Spain, the groom's grandmother, Doreen Blackston, of Manchester, the groom's grandfather, Michael Cohen, of Liverpool, and guests from America and Israel.
After a honeymoon in Tanzania and Mauritius, the couple will settle in Brooklyn.
---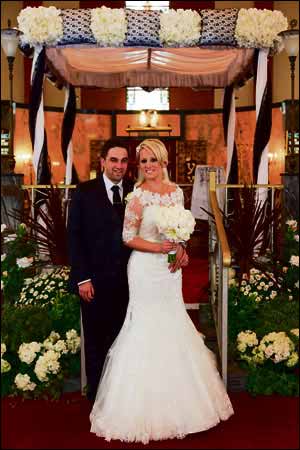 PICTURE: Carl Sukonik: The Vain Photography
A MEETING through mutual friends five years ago led to the marriage of Stephanie HARRIS and Alex Cohen.
Stephanie, an account director, is the daughter of Karen and Barry Savage, of Salford, while Alex, a business development manager, is the son of Angela and Anthony Cohen, of Hale.
They were married at St Annes Hebrew Congregation by Rabbi Ephraim Guttentag and Rabbi Joel Portnoy. Best men were Andrew Woolf, Harry Cohen and Simon Mattison.
Bridesmaids were Natalie Benson, Elana Solomon, Emma Levene, Emma Taylor and Lottie Cohen. Pageboy was Jacob Bartfield.
Stephanie's grandparents Maureen Benson and Felice and Michael Harris, of St Annes, attended the ceremony, along with Alex's grandparents Leila and Michael Refson, of Manchester.
After honeymooning in Mauritius, the couple have settled in Gatley, Cheshire.