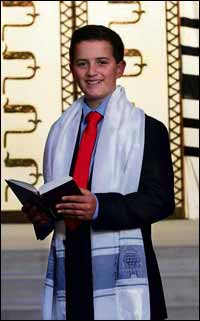 Picture: Steve Bootle
FLYING fan Benjie Ambler had his head in the clouds as he celebrated his barmitzvah at Beth Hamidrash Hagadol Synagogue.
Benjie, the son of Clio Ambler, of Alwoodley, has ambitions to become a pilot having completed 70 hours of gliding lessons.
The Leeds Grammar School pupil also enjoys playing sports such as rugby and football.
Sister Charlotte was present at the barmitzvah along with grandparents Rosalind and Derek Fraser, of Leeds, uncle Louis Fraser and cousin Mikaela, of Sydney, Australia.