Picture: Adrian Salt
MUSICAL couple Batsheva Bergman and Ben Blackston entertained guests at their own wedding.
Talented pianist Ben teamed up with his new wife on violin, and Leor Sayada on vocals on their special day.
Psychology student Batsheva is the daughter of Esther and Berhard Bergman, of London, while project manager Ben is the son of Carole Blackston, of Prestwich, and the late Stephen Blackston.
They were married at The Hive, London, by Rabbi Dovid Cohn.
Unterfuhrers for the groom were his aunt and uncle, Marcia and Michael Segal. Best men were the groom's cousin Joe Segal and friend Johnny Garfield.
Joining in the celebrations were guests from America, while those who could not attend were able to watch the ceremony live on Skype.
After a honeymoon in Paris, the couple have settled in London.
---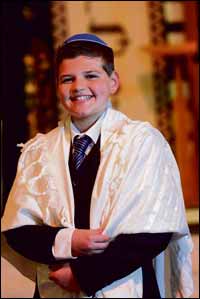 Picture: Steve Bootle
SPORTING Ethan Miller was barmitzvah at Beth Hamidrash Hagadol Synagogue on Shabbat.
The son of Jo and Jason Miller, Ethan plays rugby and football for the Grammar School at Leeds and rugby for West Park Bramhope.
His 14-year-old sister, Georgia, attends the Grammar School at Leeds.
Grandparents Sandra and Ronnie Miller and Pauline and Stuart Woolf joined guests from Israel and around Britain.