GRAMMAR School at Leeds pupil Otto Stowe celebrated his barmitzvah at Beth Hamidrash Hagadol Synagogue.
The second son of Antonia Stowe and Elliot Gay, Otto has an older brother, Asher, and is the grandson of Janet and Terry Stowe and the late Monica and Alan Gay.
Family members travelled from Australia and Israel for the celebration.
Otto is a member of the Northern School of Contemporary Dance.
He also enjoys the outdoor life, including walking in the countryside and computers.
---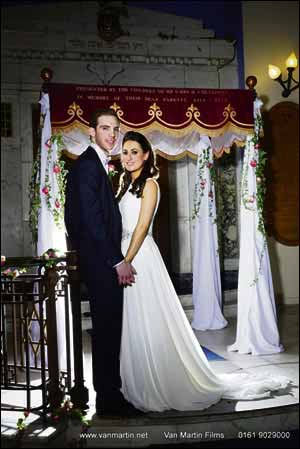 PICTURE: VAN MARTIN
DANIELLE Rubinstein and Adam Schwinger found love in King David High School's sixth-form.
And, 10 years later, the childhood sweethearts married at the Higher Crumpsall and Higher Broughton Hebrew Congregation.
Danielle, a project manager in the construction industry, is the daughter of Suzy and Gary Rubinstein, of Salford, while online retail buyer Adam is the son of Bernice and Nigel Schwinger, of Whitefield.
Best man was Simon Lazarus. Bridesmaids were the groom's sister Tanya Schwinger, Mia Cowan and Rosie Gordon.
Joining in the celebrations were the bride's grandparents, Sandra and Sam Davies and Cynthia Rubinstein, as well as the bride's 102-year-old great-grandmother, Eva Kay, together with guests from Israel and America.
The couple, who plan to honeymoon in Thailand and Sri Lanka, have settled in Prestwich.