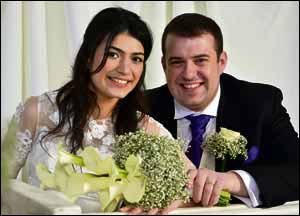 Picture: Howard Gordon
A BNEI Akiva youth camp eight years ago led to marriage for Sasha Buchsbaum and Robert Marks.
The couple were married at the Last Drop Village Hotel in Bolton by Prestwich Hebrew Congregation's Rabbi Dovid Eisenberg, with the assistance of Robert's uncle, Rabbi Bernie Goldberg from Jerusalem.
Robert, a director of Leeds Jewish Orthodox Youth, is the son of Janet and David Marks, of Salford, while medical student Sasha is the daughter of Amanda and Jacky Buschbaum, also of Salford.
Best man was Joni Kleinman with bridesmaids Ruby Goldblatt and Eli Rubin. Pageboys were Joel Buschbaum and Joey and Benjamin Goldblatt.
Joining in the celebrations were the bride's grandparents Shalom Goldblatt, of Salford, and Doris Buchsbaum, of Israel, along with Robert's grandparents, Golda and Charlie Marks, of Leeds, as well as guests from Israel, America and Australia.
The couple have settled in Alwoodley, Leeds, and will honeymoon in Israel in the summer.