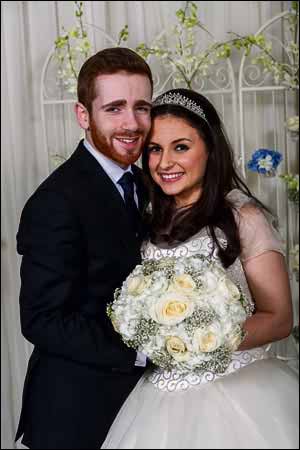 PICTURE: MIKE POLOWAY
ADINA Collins and Sammy Golding were married at the Manchester Great, New and Central Synagogue, two years after meeting through Bnei Akiva.
Adina, a secondary school art and photography teacher, is the daughter of Carolyn and Mark Collins, of Prestwich, while Sammy, who works for Apple, is the son of Madeline and Charles Golding, of London.
Best man was Benji Clarke. Bridesmaids were the bride's sisters Miri and Shira Collins and the groom's sister Jordana Golding, as well as Sophie Massias, Dalia Kreike, Hazel Barrett, Emily Radivan and Libby Gordon.
Joining in the celebrations along with guests from Israel and Holland were the bride's grandparents, Leila and Stephen Steel, and the groom's grandmother, Sheila Golding.
After sheva berachot, the couple have settled in Hertfordshire and will honeymoon in Israel later in the year.