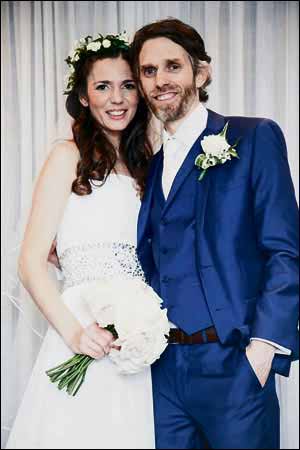 PICTURE: ENB PHOTOGRAPHY
IT was love at first click for Charlotte Scott and Anthony Richard as the couple were married at Beth Hamidrash Hagadol Synagogue, Leeds, by rabbis Jason Kleiman and Mendel Sufrin.
Anthony, a psychotherapist and science teacher, met Charlotte, a teaching assistant and singer, via an online dating website.
Best man was Richard Green, who travelled from the Pyrenees. Bridesmaid was Charlotte's daughter, Angelina, and her son, Sonny Jack, was the pageboy.
Joining in the celebrations were Charlotte's parents, Pippa and Raymond Scott, of Leeds, and Anthony's parents, Patti and Michael Richard, of Liverpool.
Charlotte is the granddaughter of the late Esther and Jack Farber, of Farber Travel fame.
Guests attended from Israel and the couple had a mini-moon at a vegan hotel in the Lake District.
---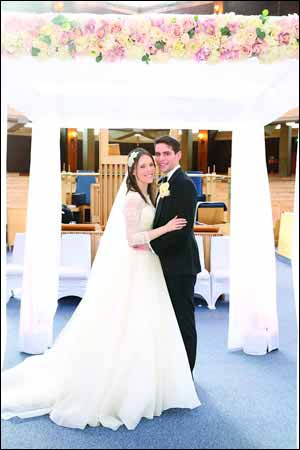 Picture: Ruthless Images
A MANCHESTER Jewish Students' Society event led to marriage for Richard Myers and Joanne Lee.
The wedding took place at Beth Hamidrash Hagadol Synagogue, Leeds, where Rabbi Jason Kleiman officiated.
Richard, a chartered accountant, met Joanne, a human resource adviser, at the annual Manchester J-Soc "Booze 4 Jews" event while she was in her final year at Manchester University.
Joining in the celebrations were Richard's parents Elaine and Howard Myers, of Whitefeld, and Joanne's parents Linda and Martin Lee, of Alwoodley, Leeds. Best men were Michael Myers and Ben Lazarus.
Bridesmaids were Simone Colp, Alexandra Abrahams, Olivia Harris, Amelie Labelda, Poppy Golding and Sophie Golding.
Pageboys were Daniel Harris, Asher Abrahams, Max Abrahams, Jake Selman and Nathan Colp.
Grandmothers Thelma Lee, Adrienne Harris, Shirley Labelda and Sylvia Myers were there, together with guests from Israel and America.
The couple honeymooned in New York and have settled in Whitefield.