IT all started with a quote. When Mancunian Jessica Levine wrote "Everything's Beshert" on the social networking website Instagram, it was seen by New Yorker Meir Peer.
And, after months of him "liking" and commenting on photographs of her, they started to speak via Facebook.
Six months later, they flew to Israel to meet each other.
From then on, Jessica and Meir enjoyed a long-distance relationship. After two years, Meir proposed and, in June last year, he moved to the UK to be with her.
The couple were married in Jaffa by Rabbi Benji Silverstone. Jessica, a teacher at King David Primary School, is the daughter of Ann and Stephen Levine, of Whitefield. Underwriter Meir is the son of Eydie and Shimon Peer, of Queens, New York.
Best men were the groom's brothers Dean and Geffen Peer. Bridesmaids were Arielle Kopman, Natasha Howarth and Abbie Kramrisch. Maid of honour was the bride's sister Bethany Bacall.
Pageboy was the bride's nephew Coby Bacall and flower girls were the groom's nieces Hailey, Danna and Gali Ben-Gur.
Joining in the celebrations was the groom's grandmother Yardena Turner, of New York, as well as guests from England, America and Argentina.
After a honeymoon in Barcelona, the couple have settled in Salford.
---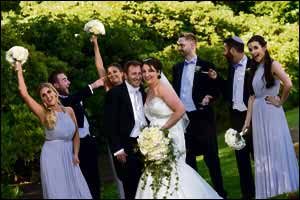 Picture: Steven Brodie Photography
MARRIED at Liverpool's Princes Road Synagogue were Naomi Charing and Adam Teeman.
Naomi, a doctor specialising in emergency medicine, is the daughter of Jo and Geoff Charing, of Liverpool, while Adam, who works for a housing association, is the son of Andrew Teeman, of Leeds, and the late Arlene Teeman.
Bridesmaids were Nikki Benzaquen, Chana Teeman and Alicia Steiman. Joining in the celebrations were guests from Israel, America and Australia. The couple will honeymoon in South Africa in November and have settled in Leeds.