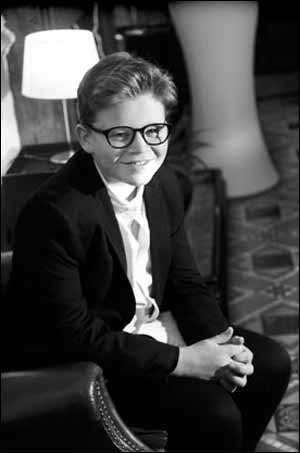 PICTURE: Steve Bootle
CHARITABLE James Goldberg celebrated his barmitzvah at Sinai Synagogue by leading the service.
James is the son of Deborah Goldberg and the late Richard Goldberg and has a sister, Jemima.
He is into all sports, particularly golf, rugby and cricket.
As a student at The Grammar School at Leeds, 'the sciences' appeal to him the most.
Sometime after his father died in 2013, aged 42, James came up with the idea of organising a bike ride in his honour.
Together with his school pals Oliver Walton, Benjie Ambler, Finlay Bruce and Adam Best, he embarked on a charity three-day 127-mile ride from Leeds to Liverpool - raising £11,000 for Cancer Research UK.
James and his team scooped the Young Volunteer of the Year accolade from Cancer Research UK Flame and Hope Awards as well as the Jewish Pride Award, the Richard Goldberg Male Lifetime Achievement award, named after his dad, for his determination to get through his loss, while achieving something extraordinary with his friends.