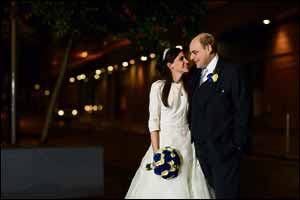 PICTURE: Flix 'n' pix
DANIELLE Morrison was certainly top of primary school teacher Yaacov Goldin's class when they married at Prestwich Hebrew Congregation.
The service was conducted by Rabbi Dovid Eisenberg and Bushey Hebrew Congregation's Rabbi Elchonon Feldman.
Classroom assistant Danielle is the daughter of Madeleine and Bernard Morrison, of Prestwich, while Yaacov is the son of Wendy and Andy Pater, of Bushey, Hertfordshire.
Best men was Yaacov's brother Ben Pater and Danny Pincus. Pageboys were the groom's nephews Asher, Avi, Rafi and Aron Pater.
Bridesmaids were the bride's nieces Olivia Haber and Natalya Morrison and the groom's nieces Amelie and Ava Pater.
Joining in the celebrations was the bride's grandmother Renee Miller.
The couple will honeymoon in five European destinations and have settled in London.
---
Daniella Haft and Sam Talbot married in Harrogate last month. Dietician Daniella is the daughter of Louise and Jeremy Haft, of Leeds, while the groom, a senior product manager, is the son of Sandra and Eddie Talbot, of Glasgow. The couple are settling in Leeds.