A COUPLE who were only introduced to each other in April married in Bet Shemesh, Israel.
Joanna Coleman and Jonathan Apfel were both spending six months of the year in the Jewish state as they had many friends there.
Two of them — Rabbi Sam Shor and his wife Henny — introduced Joanna and Jonathan to each other. And Rabbi Shor married the happy couple.
Midwife Joanna is the daughter of Linda and Ilan Coleman, of north London, while solicitor Jonathan is the son of Leonie and David Apfel, of Leeds.
Bridesmaids were Eliana and Tahilla Thwaites, while pageboy was Ariel Thwaites.
Guests from America also joined in the celebrations. The couple have settled in Alwoodley.
---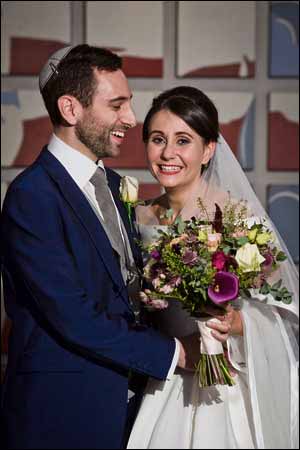 Picture: Rob Clayton
OLIVIA Caplan, of Liverpool, and Daniel Bensusan, of Essex, married at the Hilton Hotel, Liverpool.
The couple and their parents, Alison and Colin Caplan and Marcia and Harvey Bensusan, were joined by 29-year-old Olivia's grandparents, Shirley and David Baker, and cousins, Anita and Matt Geller, of Florida.
Olivia, an international merchandiser, and Daniel, a management accountant, met online and were married by Rabbi Dan Lieberman, formerly of Liverpool's Allerton Hebrew Congregation, and Chazan Albert Chait, of the United Hebrew Congregation, Leeds.
The newlyweds — who have settled in Buckhurst Hill, Essex — will honeymoon in South Africa.