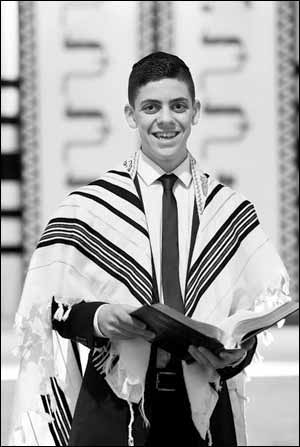 PICTURE: Steve Bootle Photography
RUGBY fan Noah Lewis Niman was barmitzvah at the Beth Hamidrash Hagadol Synagoue.
The Allerton High School pupil is the son of Nicola and Clive Niman, of Alwoodley. He has a 10-year-old sister Layla.
His hobbies include learning the guitar and playing golf. Noah supports Leeds Rhinos rugby league team.
Present at the simcha were great-grandparents Anne and Syd Sadler and Irene Davies along with grandparents Pamela and Stuart Sadler and Andrea Niman.
Guests attended from around the UK and New York.
---
STEPHANIE Stern and Darren Kane were married at Glasgow's Garnethill Synagogue.
Stephanie, the daughter of Ruty and Brian Stern, of Glasgow, is an architect, while retail director Darren is the son of Marianne and Tony Kane, of Manchester.
The couple, who have settled in London, hope to honeymoon later this year.