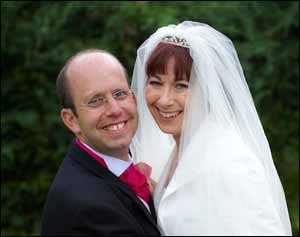 Picture: HOWARD BARNETT
Deborah Millman and Edward Sherwin married three years after meeting through mutual friends.
The ceremony, at the Pines Hotel, Chorley, was conducted by Manchester Reform Synagogue's Rabbi Reuven Silverman.
Deborah, an accountant, is the daughter of Shirley Millman, of Prestwich, and the late Lionel Millman, while Edward, who works in insurance, is the son of Irene and Michael Sherwin, of Prestwich.
Best man was the groom's brother Andrew Sherwin and bridesmaids, Larissa Lenet and Rachel Nispel.
Guests from America included Deborah's sister Estelle Lenet. After a honeymoon in Mauritius, the couple have settled in Whitefield.
---
PROUD grandma Audrey Cohen made a trip to Israel to see granddaughter Alexa Cohen marry.
Alexa's parents, Rosalind and Malcolm Cohen, who now live in the Elazar community in Gush Etzion, moved to Israel 30 years ago from Manchester.
Alexa married Guy Cohen outside the Jerusalem Biblical Zoo.
She is an events co-ordinator, while Guy, the son of Onatt and Meyer Cohen, of Tel Aviv, is an IT consultant.
Guests joined in the celebrations from Britain and Spain. After a honeymoon in Rio de Janeiro, the couple will settle in Tel Aviv.