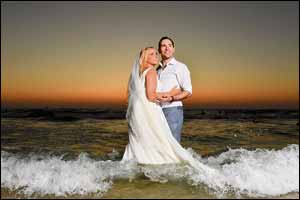 PICTURE: Rami Cohen
A COUPLE who met while studying in Nottingham were married in Jaffa, Israel, by Rabbi Gideon Sylvester.
Chemistry teacher Lee Shirion is the daughter of Roni Shirion and Bernice Shirion, both of London, while architect Adrian Cohen is the son of Denise and Leslie Cohen, of Manchester.
Best man was Jonathan Grupman. Bridesmaids were Danielle Barnett, Alina Cohen, Sarah Stoll, Hannah Kashman, Emma Beth Delin, Emily De Kare-Carmel, Naomi Davis, Dayna Topper, Alicia Barnett, Amaya Elfassy and Dana Elfassy.
Also joining in the celebrations were the bride's grandmothers, Yaffa Shirion, of Rishon LeZion, and Helen Prager, of Kfar Saba.
The couple, who have settled in Hertfordshire, plan to honeymoon in America next year.
---
If you have a story or an issue you want us to cover, let us know - in complete confidence - by contacting newsdesk@jewishtelegraph.com, 0161-741 2631 or via Facebook / Twitter