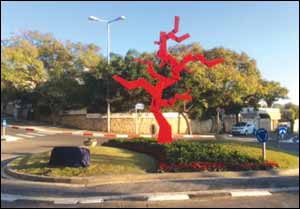 GOLDSCHMIDT Square in Haifa
The newest landmark to be dedicated in Haifa is Goldschmidt Square (which is really a circle) in the leafy suburb of Danya.
The area was the home of the Goldschmidt-Arieli family for many years, a well-known name in Haifa for the many philanthropic projects they sponsored to benefit the city.
When an only child dies at a young age, it is the end of the line, as the family name dies with him.
But the name of Goldschmidt-Arieli lives on in the beautification of Haifa, educational projects and involvement with the local, particularly South African, community in Israel.
A long-overdue ceremony was held in November to name a circle in the Danya area honouring the memory of the late May and Paul Goldschmidt-Arieli.
The couple contributed so much in the name of their son, Louis, who was killed in a traffic accident in 1972.
Dorron Kline, the CEO of Telfed, the South African immigrant association, noted that wherever one walks in Haifa, evidence of the Goldschmidts' legacy is seen.
The Louis Promenade on Panorama Road overlooking the amazing view of Haifa Bay; the modernisation of the Haifa Zoo; an academic institution at the Technion-Israel Institute of Technology; and a synagogue.
Paul Goldschmidt grew up in Rondebosch, South Africa, with his sister, Renee.
He fought with the South African Army in the Second World War in the Royal Signal Corps and served on the Cote D'Ivoire in Africa.
He had always dreamed of living in Israel and after serving in the army, he completed his civil engineering studies at the University of Cape Town, anticipating it would be a useful profession once he made aliya.
After he married May, who had just completed medical school, they moved to California, where Paul received a postgraduate degree in concrete engineering.
They had already settled in Haifa by the time Louis was born in 1952.
Paul had a construction business and one of his projects was building the library of the Bahá'í International Centre, one of the many outstanding buildings in this Haifa base of the Bahá'í faith.
Sidney Shapiro, who served as Telfed's CEO from 1984 to 2014, knew Paul's father, a leader of the Cape Town Jewish community who was originally from Germany.
"Paul and May's philanthropy was a continuation of his father's tradition of donating to the community in South Africa and in Israel.
"Meyer and his French-born wife, Germaine, also assisted German Jews get visas for South Africa prior to the Second World War," he said.
"Continuing their family's tradition of contributing to the community, Paul was also among the instigators and first patrons of Beth Protea, a retirement home for English speakers in Israel.
"Paul was a very tall man, very determined in his beliefs and his intentions to achieve both professionally in construction and in his community work. May was a paediatrician and they have both left a valuable heritage.
"After the death of their only child, they changed their own family name to Arieli in order to perpetuate his memory," said Shapiro.
Dorron Kline said the Goldschmidts remained in close contact with the family in South Africa after Louis's death.
In 1989, they set up the Meyer Hirsch-Goldschmidt Trust Fund at Telfed in order to provide scholarships to students in Israel. Students receive an annual £1,000 scholarship and, in return, commit to volunteering to assist new immigrants.
The couple were founding members of the first Telfed Haifa Regional Committee and remained active until their deaths. May died in 2008 and Paul in 2012.
Paul Goldschmidt was also one of the founders in the late 1950s of the Carmel Masonic Lodge. Sadly, past master Jay Rosen died just after our conversation, in which he told me he came to Israel from South Africa in 1967 and worked closely with Paul.
"Paul was director of ceremonies of this English- speaking lodge and very active until he moved to Beth Protea," said Rosen. "However, he moved back to Haifa after his wife passed away and although he was less mobile, remained active until the end."
While many spoke of the charismatic personality of Paul Goldschmidt, Rachel Sabah, an old-time Haifa resident, was a very close friend of May.
"After their son died, the couple were so grief-stricken they rarely left their home," she said. However, as time went by, they put their energies into these worthwhile Haifa projects.
"May was very friendly and pleasant, she was practical and thoughtful," said Sabah.
"If she brought a gift it was always useful and meaningful. She was also extremely modest and enjoyed the simple things in life.
She liked to shop at the shuk," Sabah said, recalling the many times they shared Shabbat and festival meals.
Yahav also spoke at a memorial ceremony for Paul in 2012. The Telfed magazine of that period reported: "Pointing to Paul's regular synagogue seat, Yahav said: 'He always sat unpretentiously in that seat but in truth he sat at the very hub of decision-making in major issues confronting the city. He was a true son of Haifa'."
Walter Robinson of Telfed called Paul the "illustrious son of an illustrious father, always contributing financial help and expertise."
A nephew of May Goldschmidt who lives in Hoshaya, attorney Arye Zetler, said: "We are named after the same grandmother. I remember Louis well.
"He used to visit us in Johannesburg during his summer holidays. He was very outgoing and adventurous. The parents did so much for Haifa. It is very nice that it is appreciated."
The Danya synagogue was not the only one to be built with assistance from the Goldschmidts. Cyril Fineberg remembered,
"When we were building the synagogue on Einstein Street, he helped us sort out our building problems. He also donated on condition of anonymity at that time. I was so impressed by his humility and generosity. He was a high-quality contractor and was always willing to help."
The Goldschmidts' project at the Haifa Zoo became a poignant memorial to their son.
In the late 1990s, the zoo was in a pitiful condition, with rusty fences, antiquated cages and difficult access. It certainly was not a friendly environment for the animals or the visitors.
"It is a shame that a zoo visited by so many children is so neglected," Goldschmidt said at the time. "It is crying out for help."
And as with any cry for help, he financed the complete renovation of this zoo.
By arranging to have the rocky paths of the zoo made smooth, Goldschmidt gave parents a place where they can easily wheel prams through the area, and gave disabled visitors access for use of mobility vehicles.
Marilyn and Maurice Hyman, who are active in the Danya synagogue, said the Goldschmidts were an extremely modest couple who achieved an enormous amount, and always with quiet dignity. "It is about time that their memory is honoured in this way," said Maurice.