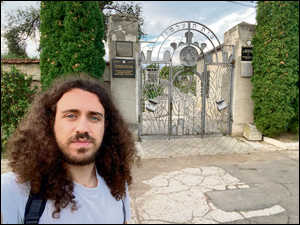 HIDDEN: Nathan Jacobs outside the Jewish cemetery in Chisinau
Nathan Jacobs went to Chisinau in Moldova to watch Manchester United face Sheriff Tiraspol in the UEFA Europa League... but he got much more than he bargained for
AS I emerge from my overnight bus to Chisinau bleary-eyed and exhausted, I am struck by the unsophisticated nature of the buildings around me.
My watch reads 6.30am as I part company with the Moldovan friends made during the nine-hour journey from Bucharest.
As I seek refuge at my hostel, I am greeted with the confused receptionist not expecting to be disturbed from her slumber so early in the morning given that check in is not until afternoon.
In no uncertain terms, she tells me to come back later, so I shelve plans for a recuperating nap and set off to one of Chisinau's hidden 'attractions': the Jewish cemetery.
But it is not due to open until 8am, which irritates me greatly as I am set to arrive much earlier.
Nevertheless, I plough on, down barren roads and up hilly streets, preparing to face a locked gate and disappointment.
Instead, following a bus journey costing six Moldovan lei (the equivalent of 27p) and a 20-minute walk, I find a grand and modern-looking silver gate, totally out of place on Milano Street where it sits.
To read more on this story, subscribe to our new e-edition. Go to E-edition.jewishtelegraph.com.
---
If you have a story or an issue you want us to cover, let us know - in complete confidence - by contacting newsdesk@jewishtelegraph.com, 0161-741 2631 or via Facebook / Twitter