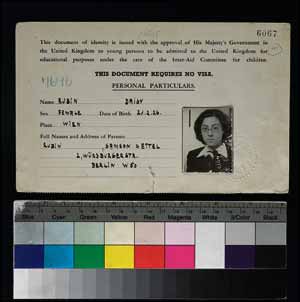 Daisy's British visa
A LONDON family has presented Yad Vashem with a treasure trove of documents contained in a suitcase used on the Kindertransport.
Lion Rubin escaped from Germany to England, together with his family before the war.
The suitcase was used by Lion's sister Daisy during her journey on the Kindertransport in 1939.
In it were dozens of original artefacts from the family compiled before, during and after the war, including; letters, birth certificates, memoirs and official documents.
The Rubin family escaped only 25 days before the war with the help of Francis (Frank) Foley, who was recognised as Righteous Among the Nations by Yad Vashem.
The Rubins lived in England for decades before emigrating to Israel.
Most of the documents belonged to Daisy's parents, Samson and Ettel, who were born in Poland.
Samson Rubin served in the Austrian army during the First World War, later moving to Berlin where he ran a business until the Nazis forced him to hand it over to an Aryan German as part of their anti-Jewish laws.
Samson's father was deported to Buchenwald where he died, and the family narrowly escaped harm during Kristallnacht, thanks to a warning from the Nazi who had appropriated his business — Mayor von Oertzen.
The Rubins then sent 12-year old Daisy to England on the Kindertransport in June 1939 and shortly afterwards joined her there thanks to help from Lord Lister and British spy Foley. Daisy initially stayed in Rabbi Solomon Schonfeld's hostel for Jewish girls in Sunderland and later rejoined her parents and younger brother in London.
In 1948, she married Mendel Roessler, who had escaped with his family from Amsterdam to England before the war on a ship carrying Jewish diplomats.
The Roessler family were interned for two years on the Isle of Man by British authorities and narrowly avoided deportation to Australia by bribing an official.
Mendel and Daisy emigrated to Israel in the 1970s.
The suitcase and the artfacts were presented by Daisy's daughter Susan Herold.
---
If you have a story or an issue you want us to cover, let us know - in complete confidence - by contacting newsdesk@jewishtelegraph.com, 0161-741 2631 or via Facebook / Twitter